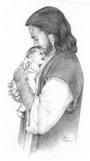 As time goes on things get better a lot better as a matter of fact. I went from feeling like my heart would never heal to having a mostly healed heart. I don't think my heart will ever truly be fully healed I think that ache of always having a "what if" will be there, always wondering who Brandon would be today. Dave is the most amazing husband! he has put up with the consent downs in the beginning to the emotional roller coasters to the every once in awhile unexplained bad days. But sometimes I don't think it is fair to drag him down with my upset moods and that is why I am writing this out tonight. Do not feel like you have to read this I just need to get my feeling out tonight.
I am so sick of people seeing my 3 girls and saying don't worry one day you will get your boy or is your husband disappointed. I understand they are strangers and they do not know the situation but seriously mind your own business I LOVE my girls with all my heart and yes some day I will get my little boy back and he will be perfect untouched by this world. I hate it when I hear people say to me to be grateful I lost him because I am lucky he will never have to experience this world or maybe there was something wrong with him and I should be grateful I do not have to raise a child with disabilities. I would take any disability if I could have my baby he was mine and I would have LOVED him the same no matter what. Maybe I am just self fish but I wanted Brandon here with me, however, because I can't I have learn to accept that one day maybe I will get to have him again.
As time goes on I feel like what happened to Brandon has become almost like a bad dream like I think about it and it hits me I lost a baby like I can not believe it happened. Sometimes I blame myself and wonder what I could have done to change the situation. If I had gone in sooner if I was more careful. If I was a better person.
Kaitlin has truly been my angel through my bad days. She know just what to say to put a smile back on my face. When we were at Disneyland this past week my thoughts kept turning towards Brandon should have been here. I just felt like there was a hole there and something big was missing. Of course I never said anything to the girls or Dave. But on the last night there Kaitlin passed a man selling balloons and asked if she could buy one and send it to baby Brandon in heaven so he could see mickey too. It broke my heart that she was trying so hard to include a brother that she will never know but she already loves so much.
I look at other people that have baby boys and that is one of the hardest things for me because I just think back to Brandon. Holding baby boys break my heart because I just think about Brandon and the chance I never got. seeing little ultrasound pics of babies little hands and feet are so sad because that was like Brandon little hands and feet when he was born. He was just so tiny i still cannot believe something could be so tiny yet so perfect.
Brandon never uttered a cry yet I loved him so much. In the end I had to do the hardest thing I have ever done in my whole life which was give him to a complete stranger knowing that is the last time I would ever see him in this life. As I think back to that moment my heart still breaks every time. I just wanted one more moment one more chance to whisper "I love you" to him. I just wanted to have him for one more minute.
I just miss him.
This is what I have left of my little guy this is what keeps my trying to improve myself in hopes of one day getting to hold my little guy again . I have held these little hands and feet very close to my heart and I think I am finally ready to share them.